Micro Vickers Hardness Tester
w/ Video Cam, Adaptor and Software

This Micro Vickers hardness tester is a precise testing system suitable for hardness analysis of metallic specimens in metallography laboratories or production environments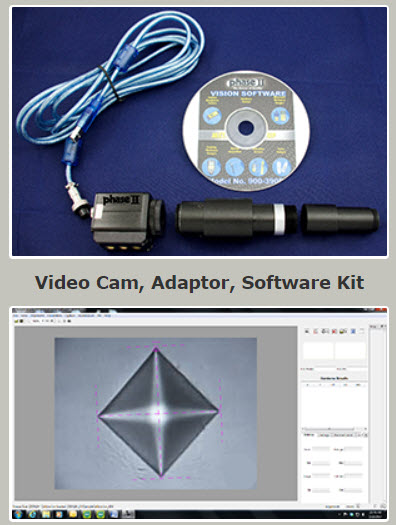 Model No. 900-390A Vickers Hardness Tester
Includes Video cam, adapter and manual measurement softwar
Model No. 900-390B Vickers Hardness Tester
Includes Video cam, adapter and Auto-Measurement software
Technical Features:
Testing Range: 1HV~2967HV
Test Forces:0.098N(10g), 0.246N(25g), 0.49N(50g), 0.98N(100g), 1.96N(200g), 2.94N(300g), 4.90N(500g), 9.80N(1000g)
Max Height of the Specimen:70mm
Max Distance from the Indenter Center to the Instrument Panel:95mm
Lens/indenters with:With Hand Turret
Carriage Control: Automatic(loading /holding-up of the load/unloading)
Amplification of the microscope:100×,400×
Dwell Time of the Test Force:(5-60)S
Min.Graduation Value of the Testing Drum Wheel:0.25um
Dimension of the XY Table:100×100mm
Movement Field of the XY Table:25×25mm
Light source/Power Supply:110/220V,60/50Hz/Cold Light Source
Weight/Gross Weight41.5kg Net Weight: 35kg
Package Dimensions:425×245×490mm
Main Accessories for Phase II Vickers Hardness Tester Model 900-390:Base Machine
X-Y Stage w/Micrometer
Mini Thin Part Holding Fixture
Mini Drill Chuck Fixture
Mini Vise fixture
Video Cam w/Adapter
Measurement Software
USB Cable
Tool Kit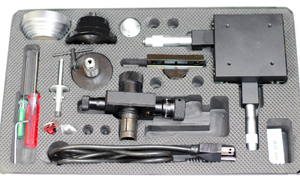 Software for 900-390A can be upgraded to 900-390B. Contact Phase II for further information

Our advanced line of Micro Vickers Series hardness testers are state-of-the-art, precise testing systems suitable for hardness analysis of metallic specimens in metallography laboratories or production environments.
The Phase II micro-vickers hardness testers are versatile and user-friendly systems, designed for the accurate hardness testing of small precision parts, thin materials, coatings, wires and case depth determinations. The Phase II 900-390 Series micro-vickers hardness testers include Video Cam, Adapter, USB Output Cable and a choice of 2-variants of Measurement software giving you the capabilities of machines that cost thousands more. The 900-390 Micro Vickers hardness testers cover the load range from 10g to 1kg.
Conforming to ASTM E-384/92 vickers hardness testers standards, the 900-390 series micro vickers hardness testers will offer unmatched repeatability. This micro Vickers hardness tester can also measure Knoop hardness after installing an optional knoop indentor. A perfect rugged performer suited for any environment, the Phase II vickers hardness testers are offered with a 5 year warranty and free lifetime technical support.
________________________________________________________________

คลิ๊ก



สอบถามข้อมูลเพิ่มเติม :
Tel. 0950726511
Email : info@rapinstruments.com
FB : https://www.facebook.com/vibrationservices/