Non-Destructive Portable Hardness Testing!
The new PHASE II miniature ultrasonic portable hardness tester is capable of measuring the surface hardness of a broad variety of metals on flat, round, thin or large surfaces. Accurate measurements of steel, cast steel, alloy steel and aluminum, are easily attained with these mini, ultrasonic portable hardness testers.
The MET-HRC, MET-HB & HV meet ASTM A1038-10 specifications.

MEASURING METHOD: MET-HRC, HB & HV ultrasonic portable hardness testers

"Ultrasonic Contact Impedance" portable hardness testing is based on a 136 degree diamond at the end of a vibrating rod being depressed into the test surface at a fixed load. The difference in Ultrasonic vibration frequency is then calculated into a hardness value. The UCI test procedure is slower than the Dynamic Impact style, however the "UCI" method of portable hardness testing is portable, easy and accurate. It also has its own advantages when utilized for certain testing applications. UCI portable hardness testers are not restricted to large mass items like dynamic type portable hardness testers. These units can test metals as thin as 1mm and at a hardness value as low as 20HRC (75HB). They also excel at performing portable hardness tests on larger, harder metals as well. Another reason for the rise in popularity is due to the fact that the UCI method is categorized as "Non-Destructive". That translates into less scrap parts/ lower mfg costs due to necessary inspections.

MET-MINI Portable Hardness Tester

Standard Accessories:

Base Instrument
Calibrated Test Blocks
Custom Carry Case
Battery Charger
Operation Manual
Functions:

Easy To Read Menu Operation
Large LCD Display w/ Back Light
USB Interface

Automatic Mean Value
Data Archive Capacity
Specifications:Tolerance +/- 3.0% deviation of average from the reference value of the test block with a minimum of 5 tests
Minimum Thickness of sample: .040"
Materials: steel & cast steel, alloy tool steel, stainless steel, aluminum, brass, bronze, wrought copper alloy.
Battery type: 1-AA NiMH Re-Chargeable
Operating temperature: 5-104 degrees F
Weight: 650g
Options:

NIST/ASTM certified hardness test blocks are available.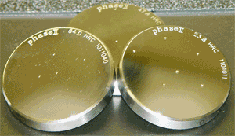 Technical data for MET-MINI portable hardness tester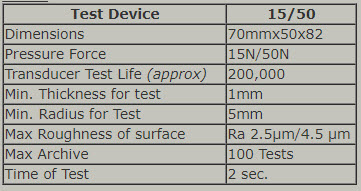 _______________________________________________________________________

คลิ๊ก



สอบถามข้อมูลเพิ่มเติม :
Tel. 0950726511
Email : info@rapinstruments.com
FB : https://www.facebook.com/vibrationservices/