L709 is a fully sealed submersible level transducer/transmitter with thread and flange connector. It is made by building in high stable and reliable OEM piezo-resistive silicon pressure sensor and high accurate circuit board into the stainless steel housing. Integrated construction and standard signal provide the user easy and convenient application in the local working place. The special cable connects with housing, can be immerged into the media for a long time.

☆All 316 stainless steel construction for durability

☆Flush diaphragm provides excellent sensitivity

☆Diaphragm is protected from physical damage

and turbulence

☆Added weight prevents movement of the

transmitter

☆Cable is designed to withstand over 200 pounds of strain, so no additional support is required.

Pressure Range: -1 Bar-0-1 Bar.....20 Bar / 0-1M........200M H2O Optional

Accuracy:≤±0.5%F.S(standard),≤±0.25%F.S(regular),≤±0.1%F.S (customized)Including non-lin., rep.

and hys.

Working Temp: -20℃~80℃

Temperature Compensation: -10℃~60℃

Medium compatible: Compatible with 316L Stainless Steel

Output: 4~20mA,0~5V, 0~10 V, 0.5~4.5 V, RS485 MODBUS RTU

Power Supply: 12~36 V DC, 9~36 V DC, 5 V DC

Electronic connection: Over molded and Fixed cable and water proof IP68

Process Connect: 88 mm (3.5") Flange, nylon nose cap, DN50 Flange, DN80 , DN100 Flange optional

Material of housing: Stainless Steel

Water Proof: IP68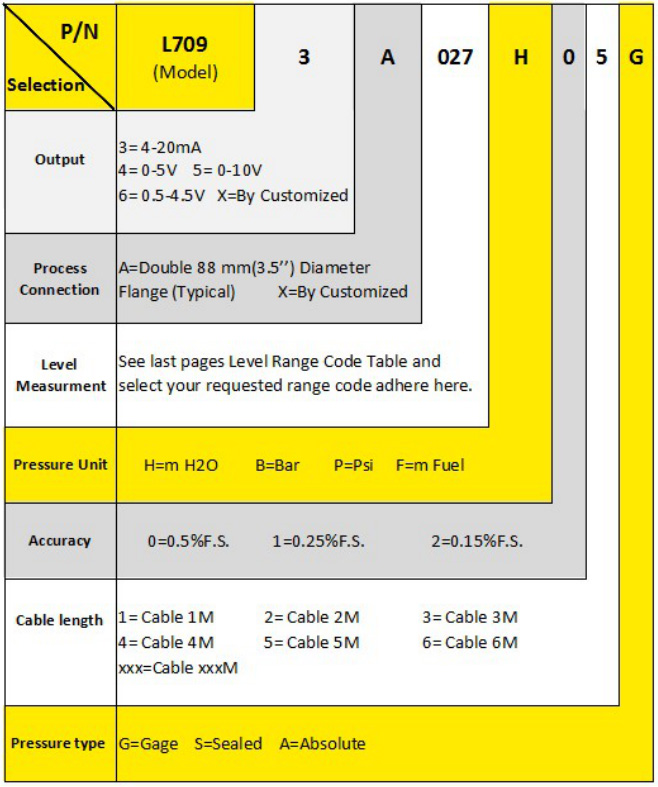 Datasheet L709 Level Transmitter MAC Sensor
________________________________________________________________________

คลิ๊ก



สอบถามข้อมูลเพิ่มเติม :
Tel. 0950726511
Email : info@rapinstruments.com
FB : https://www.facebook.com/vibrationservices/