Detailed description
YE587x series power amplifiers are high efficient power sources to drive vibration shakers for various vibration tests and analyses which are conducted commonly for the product development in various industries such as aviation, spaceflight, civil engineering, mechanical engineering, road construction etc.

Features:
Constructed with high quality operational amplifier and transistor;
Adjustable current output from 2A to 10A;
Internal thermal protection;
Transistor fault indication;
Output voltage and current display;
Output clipped waveform indication;
Low or high impedance output modes (voltage or current modes).

Specifications on YE5871A:

Rated output power100VArms

Rated output voltage10Vrms

Rated output current10Arms

Frequency range 5Hz to 10kHz for full power output at 1Ω loading

0 to 50kHz for half power output

Frequency response0 to 15kHz (±0.5dB) for DC input at voltage mode

0 to 50kHz (±1dB) for DC input at voltage mode

20Hz to 50kHz (±1dB) for AC input at voltage mode

Amplification gainVoltage mode:5V/V(±2dB);

Current Mode: 8A/V(±2dB);

Input impedance ≥10kΩ

Non-linearity distortion <1%
Indication meter accuracy<±8%
Current output limit 2 to 5Arms(adjustable)
Transistor temperature limit85℃±5℃
Output Clipping Indicator LED
Output offset <25mV
Signal to noise ratioVoltage mode:≥70dB; Current Mode: ≥60dB
Output gain 40±1dB (1kHz)
Gain control 0-Max. continuously adjustable
Attenuator 0-40dB at 10dB Per Step
Power Supply 220V±10% at 50Hz
Dimensions 400mm(H)×144mm(W)×140mm(D)
Weight:approx. 10.5kg.
Operation temperature range 0C to 70C;
Storage temperature range -55C to 85C
Maximum humidity 90% R.H.
CE Certification: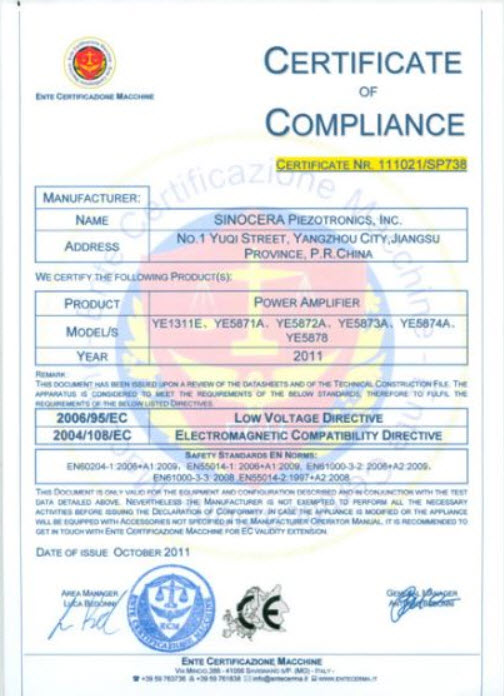 ________________________________________________________________________

คลิ๊ก



สอบถามข้อมูลเพิ่มเติม :
Tel. 0950726511
Email : info@rapinstruments.com
FB : https://www.facebook.com/vibrationservices/